Natural Curly Hair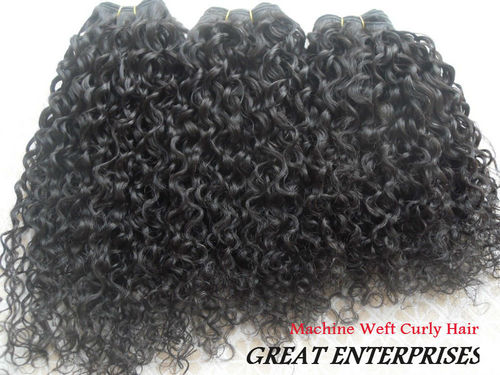 Natural Curly Hair
Product Description
The look of curly hairs is really unique, but not all girls is blessed with them. For fulfilling the wish of that hair, we are providing Natural Curly Hair, provided with curves & coils. It is not all delicate and fragile. The wig has curvy nature and soft strands, so that you font spend a harder time. The quality of this wig can be analyzed by its moisture levels and tangle-proof nature. It runs into your natural hair care regimen and offers you a office-going look as well as the picnic one. The Natural Curly Hair is a machine weft hair, apprehended for its realistic look and easy fixture.
Features of Natural Curly Hair:
Appreciable for its beautiful look, perfect curls and shiny texture.
Totally free from tangles, nit and lice eggs.
Provides better bondage and zero shedding.
Simple to fix, appreciable for its beautiful look.
FAQs of Natural Curly Hair
Q: What is Natural Curly Hair?
A: Natural Curly Hair is a hair type described by naturally happening twists or waves in the hair. It isn't artificially fixed or modified to accomplish the twist example, and it fills in its naturally curly state.
Q: How would I characterize and upgrade my Natural Curly Hair?
A: To characterize and upgrade your Natural Curly Hair, consider utilizing twist improving items, for example, twist creams or gels. Apply these items to wet hair and scrunch your hair to support the twists. Try not to brush your twists when they're dry to forestall frizz.
Q: What is the most ideal way to really focus on Natural Curly Hair?
A: Really focusing on Natural Curly Hair includes utilizing a sans sulfate cleanser and a conditioner intended for curly hair. Try not to wash your hair too much of the time, as this can strip natural oils. Utilize a wide-tooth brush or your fingers to detangle, and consider utilizing a microfiber towel or an old shirt to dry your hair to decrease frizz.
Q: How might I forestall frizz in my Natural Curly Hair?
A: To forestall frizz in Natural Curly Hair, try not to utilize towels to rub your hair dry, as this can cause grating and frizz. All things considered, delicately smudge or scrunch your hair with a microfiber towel or an old shirt. Utilize hostile to frizz serums or oils sparingly to assist with controlling frizz.
Q: Could I at any point fix my Natural Curly Hair briefly?
A: Indeed, you can fix your Natural Curly Hair briefly utilizing heat styling devices like straighteners. Nonetheless, it's vital to utilize an intensity protectant shower and stay away from over the top intensity to forestall harm. Recollect that your twists will return once your hair gets wet or experiences mugginess.