Natural Weft Hair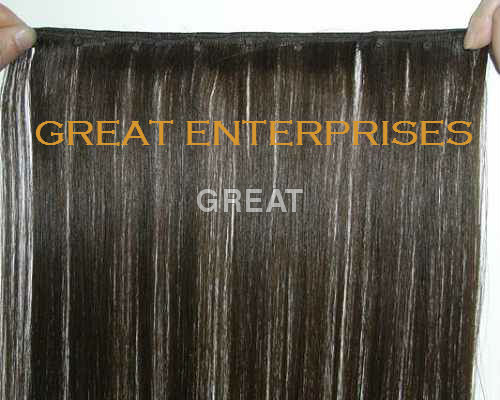 Natural Weft Hair
Price And Quantity
Product Specifications
Product Description
Our firm is a noteworthy enterprise, occupied in offering an exclusive collection of Natural Weft Hair. This range is processed using natural human hairs and latest technology as per the set industry standards. The offered range is accessible in several sizes & shapes, as well as in multiple colors. This range of Natural Weft Hair is tested on various parameters by our quality controllers to ensure defect & damage free hair in its natural appearance. In addition to this, our collection can also be customized in accordance with the clients demands at the most affordable rates.
FAQs of Natural Weft Hair
Q: What is natural weft hair?
A: Natural weft hair refers to human hair extensions that have been carefully sewn or machine sewn into a weft or track. These extensions are designed to mimic the texture and appearance of natural hair and are used to add length, volume or thickness to hair.
Q: How is natural weft hair different from other types of hair extensions?
A: Natural weft hair differs from other hair extensions in its construction. It is made by sewing individual strands of natural human hair into a weft, creating one continuous piece that can be easily attached to your own hair. This method provides a more perfect and natural appearance.
Q: What are the advantages of using natural weft hair extensions?
A: Natural weft hair extensions offer several advantages, including a natural look and feel, styling versatility, and the ability to blend seamlessly with your natural hair. They are also durable and long lasting if cared for properly.
Q: Can I style natural weft hair extensions like my own hair?
A: Yes, you can style natural weft hair extensions just as you would your own hair. You can use heat styling tools such as flat irons, curlers, and blow dryers to achieve various hairstyles. However, it is essential to use heat protective products to avoid damage.
Q: How long do natural weft hair extensions last?
A: The lifespan of natural weft hair extensions varies depending on factors such as hair quality, maintenance, and frequency of use. With proper care, they can last from several months to more than a year, providing a natural and perfect appearance.