Long Weft Hair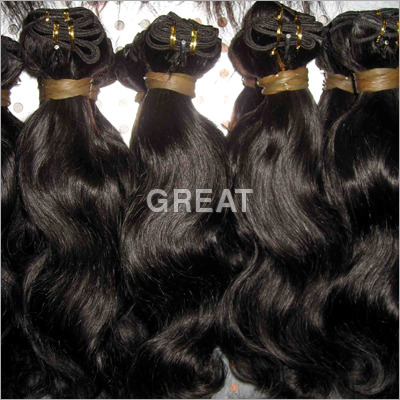 Long Weft Hair
Product Description
Backed by rich industry experience, we are engaged in providing a unique range of Long Weft Hair, which is processed using superior quality factor inputs and latest technology. Owing to its features, such as natural look and glossy & reflective shine, the offered range of Long Weft Hair is available in varied lengths and textures. In order to meet the demands of different clients, the offered range is developed in accordance with the international quality standards.
FAQs of Long Weft Hair
Q: What is Long Weft Hair?
A: Long Weft Hair alludes to human hair expansions that are planned as long wefts or tracks. These augmentations are regularly used to add length and volume to normal hair.
Q: How is Long Weft Hair not the same as different sorts of hair augmentations?
A: Long Weft Hair is recognized by its long, persistent wefts of hair, making it ideal for accomplishing a consistent, lengthier look. It is many times picked when people want long hair expansions.
Q: What sorts of hair are utilized for Long Weft Hair expansions?
A: Long Weft Hair expansions can be produced using different kinds of hair, including manufactured hair, handled human hair, or crude natural human hair. The quality and appearance can change in light of the sort of hair utilized.
Q: How is Long Weft Hair introduced?
A: Long Weft Hair can be introduced utilizing different techniques, including sewing, sticking, taping, or cutting. The establishment strategy relies upon individual inclination and the skill of the beautician.
Q: Might Long Weft Hair augmentations at any point be styled like normal hair?
A: Indeed, Long Weft Hair expansions can be styled utilizing heat styling instruments, curling irons, and straighteners to accomplish different looks. It's crucial for use heat protectants and adhere to appropriate consideration guidelines to keep up with their quality.